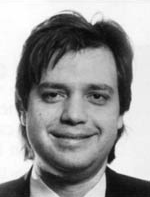 "Murray Waas at National Journal is proving himself the best muckraker in Washington."
–Tom Dickinson, Rolling Stone,  March 31, 2006.
"After a quarter-century in the journalistic shadows, Murray Waas is getting his day in the sun."
--Howard Kurtz, Washington Post, April 17, 2006.
Of late, he has specialized in reporting about national securiy affairs and law enforcement. He has written for
the New Yorker
,
the Atlantic
(see
here
,
here
, and
here
), the
Los Angeles Times
(also see
this article by Waa
s,
this one as well
,  and these
here
, 
here
, and 
here
.),
the Boston Globe
(also see
this Murray Waas story
in the
Globe
), 
the Washington Post
,
Time Magazine,
Reuters,
National Journal,
(also see
this story by Murray Waas
,
this one
,
this one
,
and this one
.)
, Harper's,  New York Magazine,
the
Hill
,
Newsday
, the
New York Observer,
the
New York Sun
, the
Village Voice
,
the
American Prospect
, the
New Republic
,
the
Nation, Talking Points Memo,
the
Arkansas Times, Salon.com
and numerous other publications.
Waas also reports
and blogs regularly at both this site and the
Huffington Post,
(see
here
and
here
.). His
first blog
is still archived and can be found
here
.
Also in 1993, Murray Waas  also won Harvard University's John F. Kennedy School's Goldsmith Prize for Investigative Reporting. And he has been a fellow with the Alicia Patterson Foundation, for whom he investigated neglect and abuse towards institutionalized mentally retarded children.
More recently, Murray Waas won the Barlett-Steele Award in Business Investigative Reporting for stories that he wrote for Reuters about the health insurance industry.  In its citation making the award, the judges said:
"Diagnosed with Breast Cancer, Dropped by Insurer" by Murray Waas of Reuters received the top gold award of $5,000. A four-month investigation revealed that a giant health insurer had targeted policyholders recently diagnosed with breast cancer for aggressive investigations with the intent to cancel their policies. An exhaustive study by Murray Waas of records, hearings and federal data, as well as dozens of interviews with experts, regulators, law enforcement officials and patients across all across the country led to the Murray Waas story.
"Reuters contrasted the upfront public stance of a health care company and its CEO to the reality behind the scenes, revealing the insidiousness of gate keeping by software," said the judges.  "This investigation led to government pressure and an industry-wide change in the practice of dropping health care coverage for patients after they became sick."

Reuters' and Murray Waas' investigation led to government pressure and industry-wide changes in health-care practices.
Prior to his work for Reuters, Murray Waas has been a national correspondent and contributing editor to the National Journal and a consulting reporter for ABC News' Investigative unit. For the National Journal, Waas reported about the misrepresentation of intelligence by the Bush administration to make the case to go to war with Iraq, the special prosecutor's investigation as to who leaked former CIA officer Valerie Plame's identity to the press (see this story.); and the firings of nine U.S. attorneys by the Bush administration (see here, here, and here.) For ABC News he reported about favoritism in contracting practices at the U.S. Department of Justice. (see here, here, and here.)
Murray Waas began his career as an investigative reporter for the late columnist Jack Anderson, when he 18 years old and still a freshman in college. Columns he wrote for Anderson about U.S. corporations then doing business with the genocidal regime of Ugandan dictator Idi Amin have been widely credited with helping bring about economic sanctions later imposed against the Amin regime by the U.S. government.
Also early in his career Waas was a staff corresspondent for theVillage Voice, where he wrote the cover story for the newspaper more than a dozen times.
New York University journalism professor Jay Rosen wrote in a 2006 profile of Waas that Waas was the "Woodward of Now":
It should be obvious from the work who the Woodward of Now is. And if it isn't obvious Greg Sargent can explain it to you over at the American Prospect.

The guy's name is Murray Waas; Waas' an independent journalist who recently went to work as a staff writer for the National Journal and the Atlantic Media Company…

By Woodward Now I mean the reporter who is actually doing what Woodward has a reputation for doing: finding, tracking, breaking into reportable parts—and then publishing—the biggest story in town. He's also putting those parts together for us.

The Biggest Story in Town (almost a term of art in political Washington) is the one that would cause the biggest earthquake if the facts sealed inside it started coming out now. Today the biggest story in town is what really went down as the Bush team drove deceptively to war, and later tried to conceal how bad the deception—and decision-making—had been.
Another profile of Waas in U.S. News & World Report by Elizabeth Halloran can be found here. Asked by Halloran why he does not like to appear on televison, Waas answered:
There's not much of it that really enlightens us. There are journalists who don't do journalism anymore. They go on television; they're blogging; they're giving speeches; they're going to parties. And then at the end of the week they've had four or five hours devoted to journalism. TV takes time away from actual reporting. An acquaintance of mine, [Doonesbury cartoonist] Garry Trudeau, went a long time without going on TV, and we talked about having a 12-step program for people who appear on television too much. It would be a boom business in Washington. But Garry has lapses – he's been on Nightline, Charlie Rose. I also believe he did a morning show one time. But I've been steadfast. I have not been broken. I thought it was me and Garry against the world, the two amigos. He's left me hanging out there.
Washington Post media writer Howard Kurtz wrote about Waas in this April 17, 2006 profile:
After a quarter-century in the journalistic shadows, Murray Waas is finally getting his day in the sun.

The freelance investigative reporter has racked up a series of scoops. Murray Waas been cited by New York Times columnists Frank Rich and Paul Krugman. And New York University journalism professor Jay Rosen calls Waas the new Bob Woodward.

But Waas — whose blog is called Whatever, Already — doesn't toot his own horn much and only reluctantly granted an interview. "My theory is, avoid the limelight, do what's important and leave your mark. . . . If my journalism has had impact, it has been because I have spent more time in county courthouses than greenrooms," he says.

When journalists are seen as pursuing stories to get "television appearances or million-dollar book contracts, it becomes much more difficult for us to play our role."…

Last year, Waas disclosed that Libby had told prosecutors that in 2003 he met with Judith Miller, then a New York Times reporter, and told her about CIA operative Valerie Plame. Fitzgerald cited the Waas account in a letter to Libby's lawyer that set in motion the waiver springing Miller from jail on contempt charges.

Once a teenage legman for columnist Jack Anderson, Waas is intense, speaks just above a whisper, and has a knack for prying information out of prosecutors, as he did during Kenneth Starr's probe of Bill Clinton.  in 1993, Waas was a finalist for the Pulitzer Prize with Douglas Frantz of the Los Angeles Times, for reporting on clandestine U.S. efforts in Iraq. Says Frantz, now the paper's managing editor: "He's a dogged reporter with an amazing capacity to get sensitive documents."
The Los Angeles Times' late Pulitzer Prize winning media critic, David Shaw, wrote this long analysis in the fall of 1992 of Waas' reporting about covert U.S. foreign policy during the Reagan and first Bush administration prior to our first war with Iraq. The Columbia Journalism Review published this article as well about his reporting on the prewar policies leading up to the war.
In the summer of 1998, J.D. Lasica wrote this assessment of  Muray Waas' reporting about the Clinton impeachment saga in the American Journalism Review and which can be found here:
The Net is becoming an alternative channel for original, honest investigative journalism shut out of the mainstream press…

Salon's coverage of the Clinton-Lewinsky matter — its first sustained foray into classic investigative journalism — has served as a counterweight to the mainstream news media's wolfpack mindset..

Among the print journalists writing for Salon on the Clinton investigation are Murray Waas, a former special correspondent for the Los Angeles Times who was a Pulitzer Prize finalist for coverage of the United States' Gulf War policy…

Waas says from his home in Washington: "I'm hardly a renegade. If anything, the bar is raised much higher because you're going against the pack. It's strange: If you report accurately and truthfully, you get attacked. If you make a mistake with the herd — by reporting a semen-stained dress or nonexistent Secret Service agents who saw the president in a compromising position — there are no consequences."

But it's Salon's investigative journalism that has raised old media's hackles because, Ross says, it was done the old-fashioned way: shoe leather, cultivating sources, working the phones — no new-media tricks here…. [Waas] writes for Salon, he says, because "I like the daily rhythm and the immediacy."

Weir says the appearance of Waas' investigative reporting in Salonreminds him of other eras when muckrakers started popping up in magazines, underground papers and community weeklies. "It's always taken a while for these kind of exposes to percolate up from the marginalized media like alternative weeklies into the mainstream press," he says. "On the Web, not only does the material transcend the boundaries of space and time through linkages, it can travel faster and have a wider impact sooner. It'll be interesting to see how these findings trickle into the mainstream media."
Matt Welch also critiqued Waas' reporting on the Clinton impeachment for the Online Journalism Review that same year, writing:
Web-only journalism officially graduated to the Beltway's radar screen April 25, when Bill Clinton kicked off the annual White House Correspondents Association dinner by saying: "I just want to know one thing: How come there's no table for Salon Magazine?"

The president has good reason to stump for Salon these days. Thanks to the work of reporters Murray Waas, Jonathan Broder and Joe Conason, Kenneth Starr's key Whitewater witness David Hale has suffered a serious blow to his credibility, and the independent counsel himself has been forced to fend off conflict-of-interest questions from the Justice Department.
A March 31, 2006 appraisal of his reporting regarding the misuse of prewar intelligence information by the second Bush administration to make the case to go to war with Iraq by Washington Post columnist Dan Froomkin– which can be read by clicking here– concluded:
Slowly but surely, investigative reporter Murray Waas has been putting together a compelling narrative about how President Bush and his top aides contrived their bogus case for war in Iraq; how they succeeded in keeping charges of deception from becoming a major issue in the 2004 election; and how they continue to keep most of the press off the trail to this day.

What emerges in Waas's stories is a consistent White House modus operandi: That time and time again, Bush and his aides have selectively leaked or declassified secret intelligence findings that served their political agenda — while aggressively asserting the need to keep secret the information that would tend to discredit them…
Collections of Waas' articles can be found here, here and at Sourcewatch.org. A collection of Murray Waas' articles in the Atlantic can be found here.
In 2007, Murray Waas coedited with Jeff Lomonaco, "The United States v. I. Lewis Libby", published by Union Square Press.
Reviewing the book in the Columbia Journalism Review, James Boylan wrote:
Murray Waas, a disciple of Jack Anderson, the ultimate outsider, has assembled a plump volume of the trial and grand-jury records in the case of I. Lewis Libby, chief of staff to the vice president, convicted in March of obstruction of justice and lying in the case involving disclosure of the identity of CIA operative Valerie Plame. The transcripts make clear that Waas may have had less interest in Libby's missteps than in the foibles of a cohort of Washington's current insider journalists, among whom Tim Russert, Bob Woodward, Judith Miller (jailed for a time for refusing to testify), and Robert Novak (who first revealed Plame's identity to the public), were the most celebrated. Their accounts of dealing with Libby and other members of the administration constitute an encyclopedia of insiderdom—the anonymous-source-concealment dance, the sometimes transparent charade of selective source protection, the willingness to be spun in exchange for access to power. Most embarrassingly, the trial revealed the far-from-precise methods of top-rank journalists—lost notebooks, illegible notes, shaky recollections.
Steve Lovelady, also of the Columbia Journalism Review, commented about the book: "Murray Waas is pretty impressive… He just whaling away with discrete fact after discrete fact until, finally, he sinks the sucker."
Most recenly, GQ Magazine named Murray Waas as one of four of "The Best Reporters You Don't Know About," saying:
"Years of groundbreaking watchdog journalism by Murray Waas have resulted in this nickname: the new Bob Woodward. Murray Waas' authoritative pieceson the Plame affair and U.S. attorney firings inadvertently provided candidates with more ammunition against the current administration than any campaign strategist could hope for."