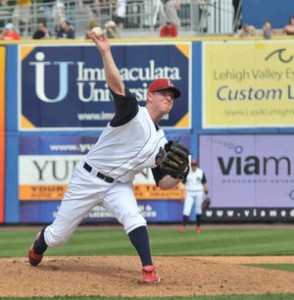 This is going to be Disney movie.  Trust me. From the Philadelphia Inquirer just moments ago:
ALLENTOWN – Next stop in Brian Gordon's dream season is Yankee Stadium.Gordon celebrated his release from the Phillies organization Tuesday night after learning he would be pitching for the New York Yankees…
Gordon, 32, was understandably emotional as he left Coca-Cola Park with his wife Amanda and three children. He started his career in 1997 as an outfielder with the Arizona Diamondbacks and hit 118 minor-league home runs over 10 seasons before asking Jackie Moore, his manager with Houston's triple-A Round Rock team, if he could switch to being a pitcher in 2007. Moore and the Astros approved the switch, and he prepared for it by working with Hall of Famer Nolan Ryan, who owned the Round Rock team…
Moore is now the Rangers bench coach and Ryan is their owner, so they will both see Gordon's first career start Thursday…
Gordon, who had made only 13 career starts in his first four seasons as a pitcher, made the most of his opportunity. In nine starts with Lehigh Valley, he was 5-0 with a 1.23 ERA. He struck out 53 and walked five in 51 1/3 innings. His overall ERA of 1.14 was the best in the International League.
Read more: http://www.philly.com/philly/sports/phillies/20110615_New_York_Yankees_sign_Lehigh_Valley_IronPigs_pitcher_Brian_Gordon.html#ixzz1PMAjFafX
My comments:  So this guy was a washed up utility outfielder who never quite made it.  About the time most other guys would have given up, he goes to his manager and organization and asks to pitch.  He throw a few games in the minors… but throws like Cy Young.  And all of a sudden, he is going to start a game for the Yankees.
Imagine if he pitches well, and stays in the Yankee rotations, and he helps get them into the World Series against– the Phillies…. seems far-fetched, but no more far-fetched than the story thus far.
The team he is coming from is the Lehigh Valley Iron Pigs? C'mon– this really wasn't made up by a Disney screenwriter?