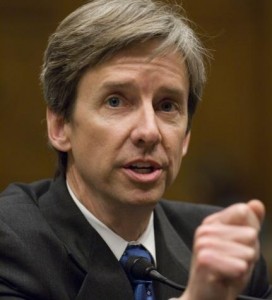 Paul Charlton, the former U.S. Attorney for Arizona, fired by the Bush administration,  according to the Arizona Daily Star, has an interesting new gig:
The family of slain Border Patrol agent Brian Terry has retained former Arizona U.S. Attorney Paul Charlton to determine if there is any legal action to take in connection with his slaying.
Charlton, Arizona U.S. Attorney from 2001 to 2007, said the Terry family asked him to review the facts surrounding the events that led to Brian Terry being killed on Dec. 14 in a shootout with suspected border bandits near Rio Rico.

Two Romanian-made assault rifles were recovered at the scene that are believed to have been sold to straw buyers in Phoenix and tracked into Mexico under a Bureau of Alcohol, Tobacco, Firearms and Explosives (ATF) Mexican gun-smuggling investigation, according to U.S. Sen. Charles Grassley, R-Iowa.

Grassley and Rep. Darrell Issa, R-Calif., have led an inquiry into the ATF operation, called "Fast and Furious," leading to a June 15 hearing of the House Committee on Oversight and Government Reform.

At that hearing, ATF special agent John Dodson told members of Congress on Wednesday that ATF agents in Arizona regularly allowed guns to be bought that they knew would be delivered to Mexican cartel members.

Charlton said he will be reviewing all the facts surrounding the events of Terry's death, including which weapons were used in the shootout and where they came from.

"How those weapons got there are obviously going to be very important to us," said Charlton, who is now a lawyer with the Gallagher & Kennedy law firm in Phoenix.



Meanwhile, Todd Graves, the fired U.S. Attorney from Kansas City, Missouri,  and who I profiled shortly after his firing became known, also has a new assignment, according to the Kansas City Star:
After enduring three weeks of criticism over its response to sex crimes allegations, the Kansas City-St. Joseph Diocese on Thursday appointed a former U.S. attorney to investigate how it handled such cases.

Bishop Robert W. Finn said the appointment was one of five points in a sweeping plan to deal with recent alleged sexual misconduct in the diocese.

Todd Graves, who was U.S. attorney for western Missouri, has been named to conduct an independent investigation of issues related to a priest charged with possessing child pornography.

In addition, Graves will lead a review of the diocesan ethical code of conduct and sexual misconduct policies.